Yesterday I told one of the twelve-year-olds that I wanted her to draw me a cottage. I gave her the specs.
Today I found this on the desk in my office: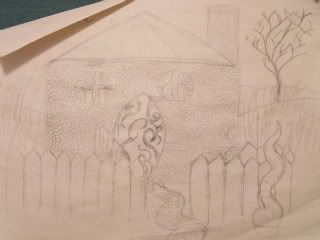 Wouldn't it be nice if life could be like that just a little bit? "Here's what I want..." and the next day it's a reality, without blood, without sweat, without tears. Without rejection or missed chances or misunderstandings. Without waiting.
I was half-joking when I told her I wanted her to draw it, the little, cozy cottage in the woods, like in the land of hobbits. But because she is an Artiste - and, it's starting to look like, a really good kid - she drew it anyway.
That was the first thing I noticed about her almost exactly a year ago, when I first came to the center. Her potential for art, at such a young age, is possibly limitless. She does it all. Sketches, paintings; she did an entire spring mural on one of the walls in the classroom using construction paper and magazine clippings. She fitted dolls with new clothes using the fabric scraps on the art easel. She made a papier-mache pinata out of the blue one day. She cut out the most elegant snowflakes to hang from the ceiling last winter, and decorated them with glitter. She drew scarily accurate caricatures of the other students on the computer using an old drawing program. She made an entire safari of animals using play-dough.
And what I love about it is that no one has to prompt her to do this stuff, ever. You just look up and she's either halfway through or already done.
Isn't is kind of amazing to think that every single person has their "something"?
Just imagine if we all got to do our "something" every day for a living.
All
of us.