Today we're going to talk (irreverently) about an always timely issue: the use (and abuse) of facial hair. As a woman, I won't tell a man what to do with his own face, but as a human being, and a citizen of this country, and an owner of two eyeballs, I must take a stand: ALL BEARDS ARE NOT EQUAL.
I think we can all agree that a nicely trimmed beard is universally acceptable. (This includes the several stages of stubble growth that precede an actual beard, which, probably more than any other style, is the 'sexiest') All things in moderation! It's already going to be a daunting task, heading into the post-chauvinist future that I foresee, getting men to understand that a polished appearance is not the sole purview of women, so we might as well start with something as fundamental as the beard.
Done right, a nicely trimmed beard puts a whole new spin on a familiar face and gives just an extra dash of masculine to a Romeo:
Images courtesy of telegraph.co.uk, ebony.com
A great beard can also do an Eliza Doolittle on a guy only known as a nerd: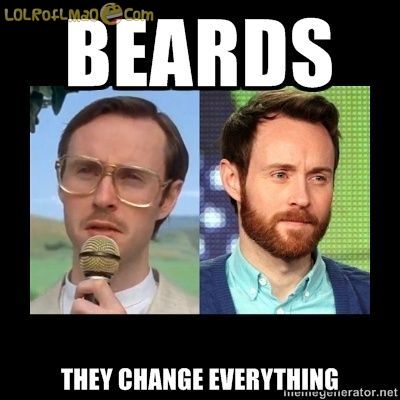 Of course, it's easier to nerd a hot guy down than to beautify the less aesthetic. These cats don't get in the movies for no reason.
Now, some men, for probably a vast number of impenetrable reasons, prefer to grow their beards out way past the point of civility, hygiene, or aesthetics. More obvious reasons are personal style, cultural identification, and being stranded on a desert island. Regardless, a mangly, tangly, darn-near offensive beard always adds up to one thing: DEAR GOD WHY.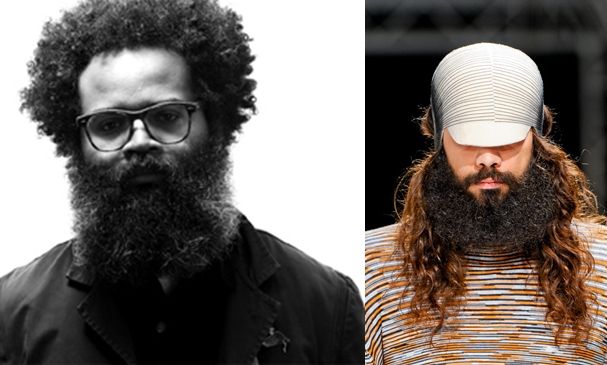 Images courtesy of austintownhall.com, nymag.com
Now, I realize I've posted a couple of extremes. But sometimes, that's the only way to make a point. Gentlemen, the word is
maintenance
.
I was going to post a photo of Zack Galifinakis, whom I hold as the standard-bearer for what an awful beard can do to an otherwise probably not-ugly guy. But Photobucket wouldn't resize it - it, too, could not bear the awfulness.
While we're on the subject, let me go ahead and proclaim the death of the ironic mustache. To keep it real, the ironic mustache was dead on arrival. It's not funny. It's not hip. It's not the seventies and you're not Tom Selleck. If I see even so much as one more, so help me. So help me.